Stay Up-to-Date With Esports: A Guide To Upcoming Tournaments & Matches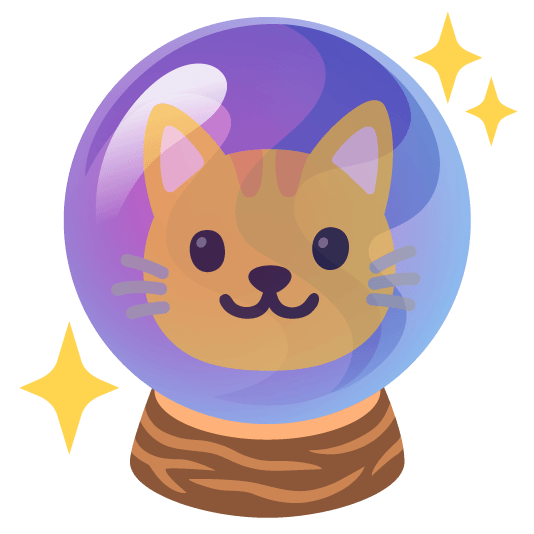 Author
Tournacat
A generally awesome cat. 🐾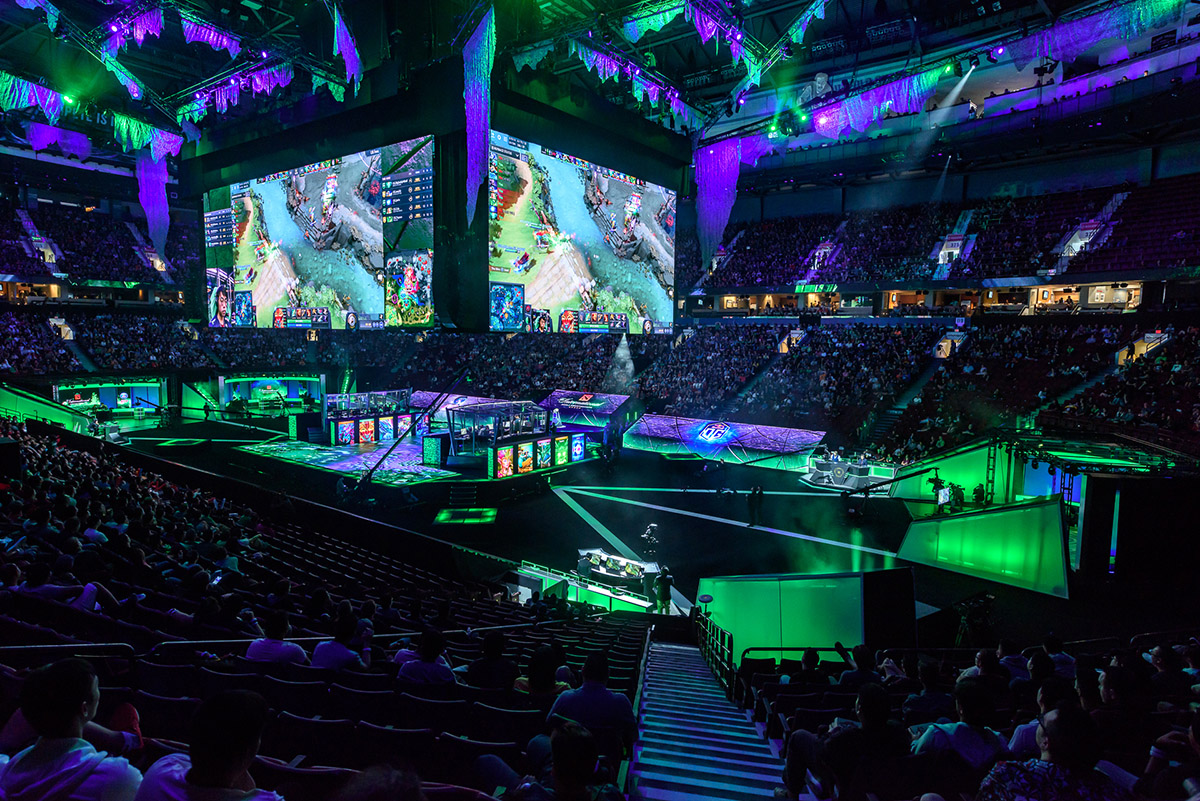 Hey, gamers and Esports enthusiasts! Have you ever missed out on an epic match or tournament just because you didn't know about it?
Or maybe you found out about it too late and couldn't attend or watch online? Well, worry no more! Here, we're going to talk about how to stay up-to-date with the Esports calendar and upcoming Esports tournament events using Google Calendar.
TL;DR: Use Tournacat add-on to easily stay informed on upcoming tournaments and matches, plan to attend or watch online, and discover new games and players.
The Rise of Esports: A Global Phenomenon #
Esports has taken the world by storm, with games like Dota, Counter-Strike, League of Legends, Valorant, and many others attracting millions of viewers and players worldwide. It's clear that Esports is here to stay.
Here are the leading Esports games worldwide in 2022, by cumulative tournament prize pool (source: Statista):
These mind-boggling numbers demonstrate the magnitude of the Esports industry and the incredible opportunities it offers to players, teams, and enthusiasts alike.
However, keeping track of all the upcoming matches and tournaments can be overwhelming, especially when you have a busy schedule.
The Significance of Tracking Esports Schedules #
Never Miss a Thrilling Match: Esports tournaments are a treasure trove of breathtaking moments, intense rivalries, and jaw-dropping plays. By keeping track of schedules, you ensure that you never miss out on witnessing your favorite teams and players in action.

Plan Your Viewing Experience: With numerous tournaments happening simultaneously, it's crucial to plan your viewing experience in advance. By knowing the schedule, you can allocate your time wisely and make sure you don't miss any of the action-packed matches.

Stay Connected with the Community: Esports is more than just a game; it's a vibrant community of passionate fans and dedicated players. By following the schedules, you can actively engage with the community, participate in discussions, and share your excitement with like-minded individuals.
Stay Up-to-Date With Google Calendar #
In the fast-paced world of Esports, staying on top of the action-packed schedules is vital. That's why we're excited to introduce you to Tournacat, a game-changing Google Calendar add-on specifically designed for Esports enthusiasts like you.
With Tournacat, you can effortlessly sync upcoming Esports schedules to your Google Calendar, unlocking a host of benefits that enhance your viewing experience. Let's explore the advantages of integrating Esports schedules into your Google Calendar:
Seamlessly Integrated and Organized #
By integrating Esports schedules into your Google Calendar, you can have all your commitments and Esports events neatly organized in one place. Say goodbye to juggling multiple platforms and searching through websites for match details. With Tournacat, your Esports schedules seamlessly merge with your personal calendar, providing a consolidated view of your daily activities.
Stay One Step Ahead with Reminders and Notifications #
Tournacat's integration with Google Calendar offers the invaluable ability to set reminders and receive notifications for upcoming matches. Whether it's a crucial tournament or a highly anticipated showdown between rival teams, Tournacat ensures you never miss a beat. You can set customized reminders to receive timely alerts before the matches begin, ensuring you're always in the front row of Esports excitement.
Access Event Details Anywhere, Anytime #
The convenience of accessing event details on multiple devices and platforms is a game-changer, and Tournacat delivers just that. With your Esports schedules synced to your Google Calendar, you can effortlessly access the event details from your computer, smartphone, or tablet. Whether you're at home, on the go, or even traveling, you'll have the flexibility to stay connected to the Esports world and plan your viewing experience accordingly.
By syncing your calendar with your favorite Esports title tournament schedule, you can stay informed on upcoming tournaments and matches. Now, you can make plans to attend or watch online weeks in advance!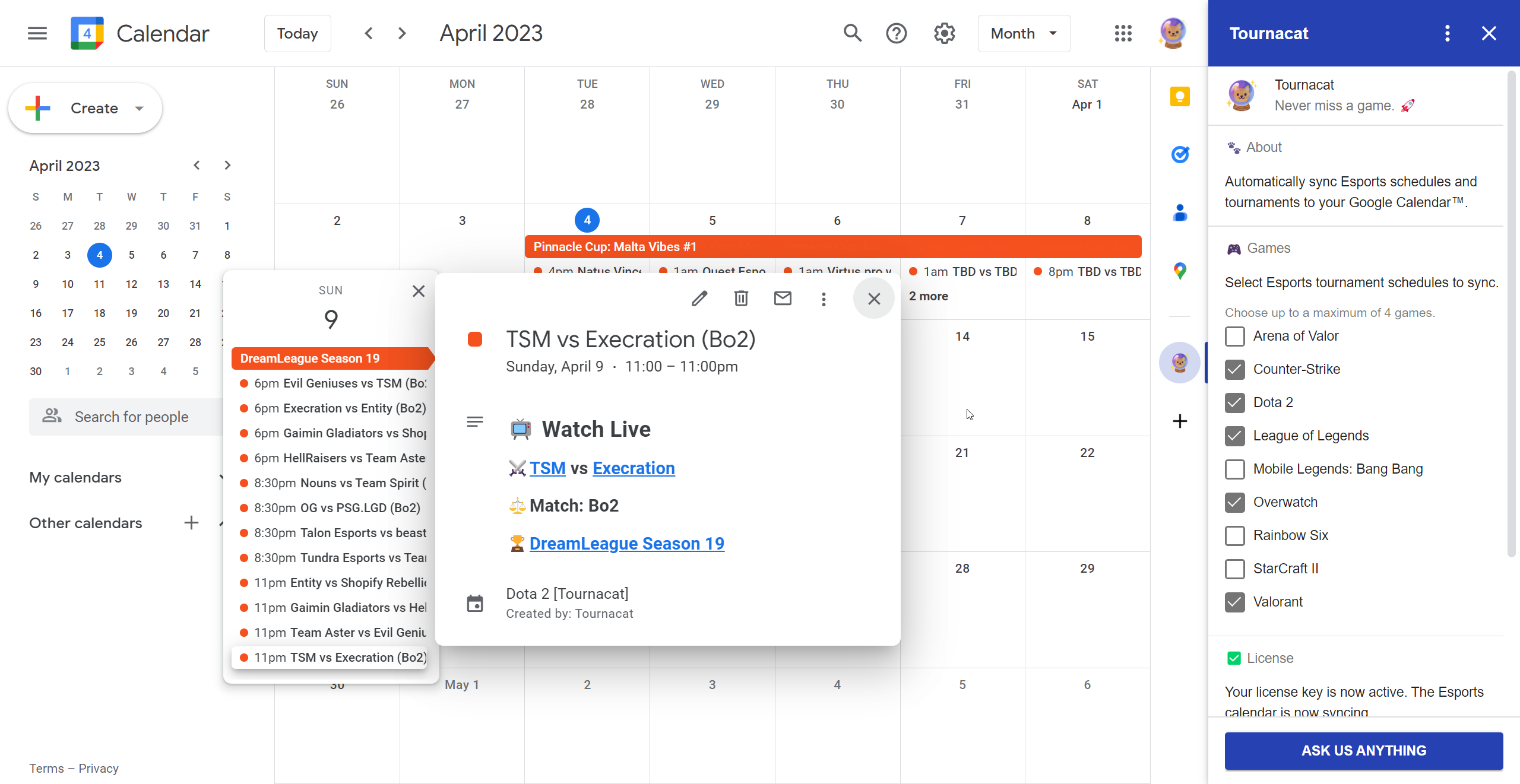 With Esports growing at such a rapid pace, staying up-to-date is essential for fans who want to be in the know.
Install Tournacat #
Tournacat is an excellent way to ensure that you never miss out on the action.
To start using Tournacat is a breeze! Just follow these simple steps:
Visit the Google Workspace Marketplace.
Click the "Install" button and grant the necessary permissions.
After the installation is complete, Tournacat will be added to your Google Calendar sidebar.
On the Google Calendar sidebar, select your favourite Esports to sync.
Once you have chosen one or more games, the Tournacat calendar will automatically start adding the Esports schedule to your calendar.
We've Got You Covered #
In conclusion, the world of competitive Esports continues to captivate millions of fans and players worldwide. Staying informed about upcoming Esports schedules is crucial for avid enthusiasts who don't want to miss a single moment of the action. Whether it's the thrilling battles in Dota 2, the tactical prowess of Counter-Strike, or the strategic clashes in League of Legends and Valorant, tracking schedules allows you to plan your viewing experience, engage with the vibrant Esports community, and immerse yourself in the excitement of the game
Whether you're a fan of Dota, Counter-Strike, League of Legends, Valorant, or any other popular Esports game, Tournacat has got you covered.
Tournacat's Full Supported Games List! 🎮📅
🎮 @ArenaofValor
💥 @CounterStrike
🔥 @DOTA2
👑 @LeagueOfLegends
📱 @MobileLegendsOL
🦾 @PlayOverwatch
🔫 @PlayVALORANT
🌈 @Rainbow6Game
⭐️ @StarCraft
🚀 @RocketLeague

— Tournacat (@tournacat) June 17, 2023
Tournacat simplifies the process of tracking Esports schedules by seamlessly integrating them into your Google Calendar. This user-friendly add-on ensures that you're always up to date with the latest matches, tournaments, and Esports events, giving you the freedom to enjoy the thrill of the game without the hassle of manually managing schedules. So, gear up, get your game face on, and let Tournacat be your trusted companion in the world of competitive Esports!
Start for Free